Bookshare Summer Reading Challenge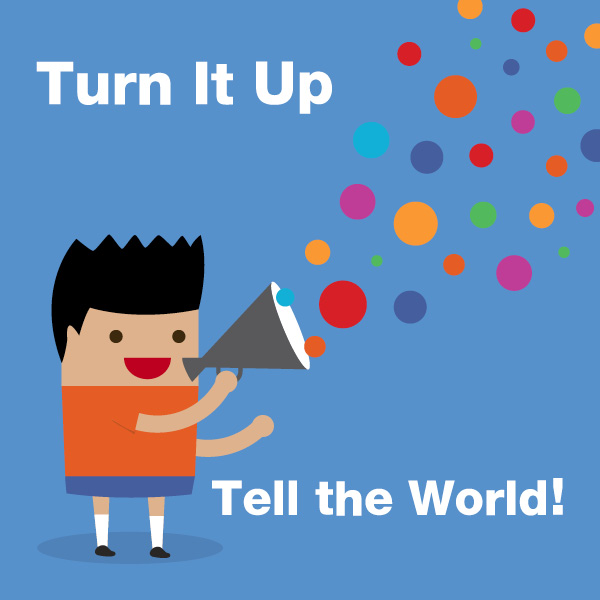 It's time to turn it up! Summer is around the corner, and you are invited to join the Turn It Up & Tell the World reading challenge. Starting on June 22, members can read any books they like and share their favorites with other members. Each week of the summer reading challenge has a special theme–like Travel & the Great Outdoors or Games & Gizmos–and members can join the discussion on Facebook and Twitter using #TurnUp4Books.
Teachers and students: What do you need to do to get ready?
Teachers: Assign fun summer books on 

Reading Lists

and give students access to

Bookshare Web Reader

 at home.
Students: Make sure your

membership is active

. For more independence, get an 

Individual Membership

 so you can use Bookshare on your own! (Update: Parents can sign the member agreement directly on the Bookshare website. No more paper forms.)
Everyone:

Sign up

 for the weekly challenge email updates.
Bookshare/ABT Connects with Librarians at Annual TLA Conference

This year's Texas Library Association (TLA) conference, held April 14-17 in Austin, provided a unique occasion for the Accessible Books for Texas (ABT) team to interact directly with librarians and learn more about the needs and activities of libraries in Texas. Many librarians stopped by our booth in the exhibit hall and were excited to discover Bookshare's vast collection of accessible ebooks and the many ways to read the books. Team members also attended conference sessions to gain new insight into the opportunities and challenges facing Texas libraries. We are committed to increasing our outreach to librarians in the months ahead.
Here are the other Texas conferences and events we will attend this summer. Will we see you? Please let us know so that we can schedule a time to chat.
San Antonio Public Library Expands Service for the Visually Impaired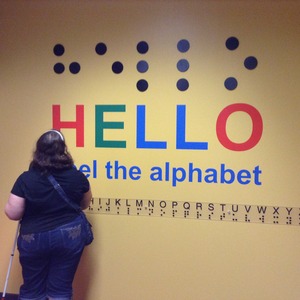 Given the important role that libraries play in every community, the ABT team is connecting with Texas libraries to spread the word about Bookshare's accessible online library. Recently team members met with the staff of the San Antonio Central Library. We are pleased to report that they are adding Bookshare to the list of resources for special needs patrons, and they will soon open a low-vision reading room with Braille and large-print titles.
TEA Funds Approved for the Accessible Books for Texas Program! Fifth Year
The Texas Education Agency (TEA) just approved funding for Benetech's Accessible Books for Texas (ABT) program for the fifth year from September 2014 to August 31, 2015.
Through ABT, local Outreach Coordinators deliver customized, face-to-face AIM and Bookshare training to schools and districts throughout Texas.  In addition, Benetech applies dedicated resources to Texas membership and support questions and Texas book requests. As a result, the number of Texas public K-12 schools using Bookshare, and the number of Texas students getting accessible eBooks through Bookshare, have grown at twice the pace of the national average.
ABT is an excellent example of a state-level partnership that augments the services that Benetech can provide nationally. Generous support from the U.S. Department of Education, Office of Special Education Programs (OSEP) funds provide free Bookshare memberships for all qualified U.S. students and the schools that serve them.
OSEP funds also enable Benetech to provide free online training and responsive phone and email support to close to 295,000 Bookshare members around the country and to add thousands of school-related titles to the Bookshare library upon request and at no charge. With supplemental funding from states or other organizations, Benetech can support educators, parents, and students even more comprehensively.  If you are interested in a customized partnership with Benetech, please contact me, Christine Jones for more information.  Thank you.
NEW!  Community Resources list to leading organizations in the United States focused on Dyslexia, VI and Blindness, Deaf-Blind and Physical Disabilities.
Milestones: 250,000+ Titles, 300,000+ Members!
This year, Bookshare's collection topped over a quarter million titles, thanks to publishers such as Penguin Group, Random House, Scholastic and many more great partners.
NEW Spanish ABT Website!
For our Latino community in Texas, you now have access to our ABT website en español!  Check it out and please share the site with others.
¡Lea libros en español! (Read Bookshare books in Spanish!)
Did you know that Bookshare's collection contains 5,000 books in Spanish, including translations of popular books by bestselling authors such as J. K. Rowling, Rick Riordan, Isabel Allende, Gary Soto, John C. Maxwell, Joel Osteen, and T. D. Jakes?
Spanish titles are added every month, so members and sponsors are encouraged to request books if you cannot find the title you need. You can also download brochures in Spanish.
Prospective members who prefer to read in Spanish can benefit from an Individual Membership Signup Form in Spanish. Available on the brochures page, this form provides a Spanish translation of the online signup form and should be used for reference only. For faster processing, prospective individual members should still sign up online.
Listen to Spanish Books in a High Quality Audio Voice
When you download them in audio format (either DAISY Audio or MP3), all Spanish Bookshare books are provided in a high-quality text-to-speech (TTS) Spanish voice which ensures a pleasant listening experience. Spanish books downloaded in DAISY Audio can be read in Read2Go, the Bookshare app for the iPad, iPod Touch, and iPhone.
Support Portal
Check our updated support portal for more details. Bookshare members can also read Spanish books using reading software that has a Spanish TTS voice. The DAISY Consortium Reader and several commercially available reading software programs offer Spanish TTS voices.